A Rejections In Voucher is used to record goods that are rejected and returned by the customer.
To enter the Rejections In Voucher
1.
From
F11: Inventory Features
, Enable the option
Use rejection inward and outward notes
.
2.
Go to
Gateway of Tally > Inventory Vouchers.
3.
Press
Ctrl+F6
or select the button
F6: Rej. In
from the Button Bar.
For example, customer A returns Item A delivered by the company.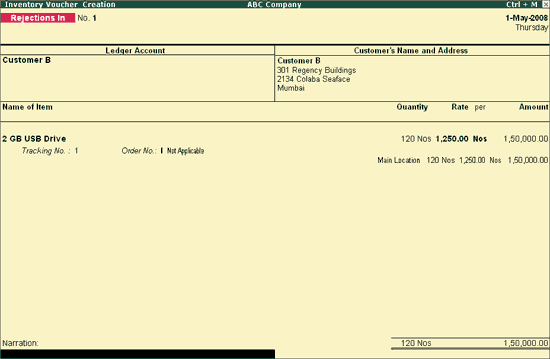 4.
Select the
Party's name
from the
List of Ledger Accounts
, from whom the goods have being returned.
5.
Once Party's name is selected under
Ledger Account
, this column will be automatically populated with address, if provided in the
Ledger Master creation
screen.
6.
Select the
Item
from the
List of Stock Items
. Press
Enter
button on the Item, it will display the
Item Allocations
screen
.
7.
Under the
List of Tracking Numbers,
the details of Delivery note along with Tracking number will be displayed, select the same. Mention the quantities returned.
Note
: In
F12 configuration
,
Show Batch Wise Details
and
Show Godown – wise Details
will show the batch and godown details in the voucher entry screen, if set to
Yes
.